After a harsh Texas winter, we wanted to do something to lift the spirits of students and staff at Fruitvale ISD following the recent Texas winter storms that left many schools in bad shape. Fruitvale ISD lost its kitchen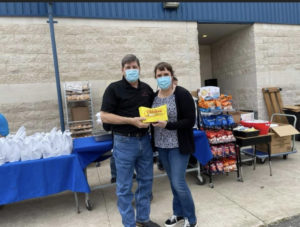 and the ability to make hot meals. Learning of this news, our team at Coryell Roofing and Roofing jumped into action and paid a visit to Fruitvale ISD  to serve students and staff hot food. We wanted to let them know they are cared for and not forgotten. Being a local Texas roofing contractor for schools, churches, and businesses, we felt a need to help one of our communities in need.   
Fruitvale ISD students and staff could not have been more excited about Blake Cooper, with the Coryell team coming in with hot food. 
"Fruitvale ISD was provided hot meals to all students and staff by Coryell Roofing today," commented Fruitvale ISA Superintendent Rebecca Bain. "We have gone two and half weeks without a kitchen and therefore been unable to provide hot meals regularly to the kids. Blake Cooper brought chicken, green beans, rolls, and gravy to our students and staff in chicken express chicken. Students were so excited and thankful for the lunches today being warm and delicious. We are so thankful for companies like Coryell giving back to school districts and supporting us in our time of need. These are the kind of businesses we want working in and for our school districts because they care about the kids and staff!" 
We are so grateful for the opportunity to help our extended community family at Fruitvale ISD.  
After delivering the meals Blake Cooper, one of Coryell Roofing's Texas Education Consultants, remarked, "Students and staff were so appreciative; it was really heartwarming. Educators are simply incredible. Everything they had to do this past year to adapt to a constantly changing COVID environment, they did, and now this. One more difficult situation they admirably overcame. I am glad we were able to give a little, even just for a day."