It was a surreal moment when the Coryell Roofing team walked on stage to receive the Golden Eagle Award at the Duro-Last National Sales Seminar this year in Hollywood, California, last week. A wave of pride and joy filled the room as our team beamed with satisfaction — it was such an incredible experience! When welcoming us on stage, the Duro-Last spokesperson said, "what he [Chris] and his wife [Theresa] have created in those 12 years – it's a monster." And it is true! Coryell received the Golden Eagle Award previously too: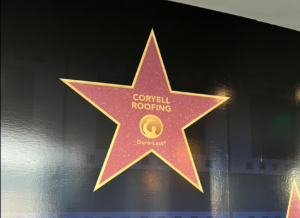 We are so proud of this record-setting team Coryell Roofing has become. It's been an incredible journey that each of us is so honored to be part of, one that has required countless hours of dedication, teamwork, and focus. To the entire Duro-Last team, they pulled off an epic, flawless event – over 1,000 attendees! Well done! From our team to yours, thank you for recognizing our team's accomplishments and giving our work family such an incredible experience!
Coryell Roofing CEO Chris Coryell commented on winning the award: "Another fantastic Duro-Last Conference is in the books! There's always something new to learn or something old to reinforce – this trip was no different for me. The idea that Coryell is at its best when every individual team member is focused on the things they each do best struck me hard, and I'm going to take that lesson into 2023."
This prestigious award is given to fewer than 1% of Duro-Last contractors nationwide in recognition of outstanding workmanship, customer satisfaction, and sales excellence – a true testament to our amazing team. With a positive outlook and unwavering commitment to delivering quality roofing solutions throughout our service area since our doors opened, it's no wonder we're celebrating with such enthusiasm today!