Coryell Roofing & Construction Celebrate Winning Two Prestigious Industry Awards from Leading Roof Manufacturer Duro-Last, Inc  
At Coryell Roofing & Construction, we are devoted to providing the highest quality roofing craftsmanship possible — this hasn't gone unnoticed by customers and those within the construction industry. We're excited to announce that our performance in 2020 was again recognized with two prestigious awards from Duro-Last during the annual Contractor Conference held by the leading roof manufacturer.  
Winning the Duro-Last Platinum Contractor Award for the 4th straight year says the most about our commitment to quality. It's awarded for achieving "Outstanding" in all installation inspections performed by Duro-Last – a record that means so much because we think quality defines us as a company. 

Additionally, because of this commitment to quality, top customer support, and increased sales volume, we were also awarded the distinguished Golden Eagle Award for 2020, honoring contractors who achieve more than $2 million in sales. The Coryell team is honored by the recognition and looks forward to growing both our quality standards and sales in 2021! 
"We are passionate about roofing, so to be singled out for excellence in our field is very exciting," commented Chris Coryell, CEO of Coryell Roofing & Construction. "Our relationship with Duro-Last is important to us, and the reliable premium quality of their roofing products has been a huge asset for us."   
Jack Burt, Chairman of the Board of Duro-Last, remarked, "All of us at Duro-Last recognize the hard work and commitment that our dedicated network of authorized contractors has provided over the years. Coryell Roofing has consistently gone above and beyond for its customers with high-quality work and integrity. We are proud to work with such a professional team and are excited to see what they accomplish in the next year."  
Coryell Roofing & Construction specializes in commercial, institutional, and industrial roofing. We happily cover all roofing needs, from repairs to retrofits to new roof installation, to communities in Oklahoma, Texas, Arkansas, and Kansas.   
We love to hear from our clients! Larry D., from Blazers Ice Center, said in a five-star review, "Coryell Roofing employees were courteous and professional and did a great job on our roof. Thanks, Coryell!"   
It feels good to be the best of the best and provide quality service to businesses, churches, and schools in hail alley.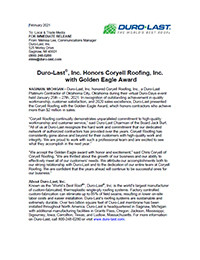 Read the Duro-Last Press Release
Read the Duro-Last press release honoring Coryell Roofing's outstanding performance in workmanship, customer service, and sales in 2020.