After a storm: We put you in control of your insurance claim 
An insurance claim can be very confusing and time-consuming. Coryell Roofing specializes in insurance claim assistance to commercial property owners – especially with storm-related roof damages such as hail, wind or water damage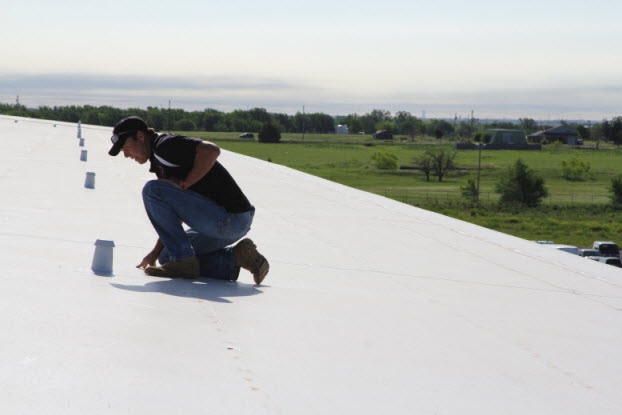 Our Oklahoma City, OK or Amarillo, TX-based insurance experts will help you deal with your insurance company. They will meet with your insurance adjuster to discuss the roofs' damage. Our involvement prevents you from getting stuck with a settlement that may not cover the needed roof replacement – or worse – getting denied.
We help you get a full roof replacement and/or repairs at no out-of-pocket expense other than your insurance deductible.
Our roofing contractors and certified roof inspectors are extremely credible and well-respected by insurance companies as advocates for our clients, and our crews have decades of experience and are trained to the highest standards in commercial roofing, making Coryell Roofing the ideal resource for both commercial property owners and insurance companies.
Call Coryell for help before you file your insurance claim
For Oklahoma, call our Oklahoma City office for help with your insurance claim:

405-392-4800
For Texas, call our insurance claims specialists at:

817-687-7019
1. Identify damage
Have a certified roof inspector check your damage. Even if you think the damage is minor, it doesn't hurt to have your roof inspected at the slightest sign of post- storm trouble.
2. To file or not to file? Our On-Site Inspection will give you some insight about whether filing an insurance claim is worth it.
The next step is to determine if an insurance claim needs to be filed for roof replacement.  If you are considered high risk due to excessive claims, then you may have trouble finding insurance coverage.  Before a claim is filed, allow our certified roofing inspectors to assess the damage.
Our roof inspectors will advise you based on forensic evidence whether an insurance claim needs to be filed.
We will be on site with the adjuster during the inspection, assisting them with identifying the damage.
3. Call your insurance
Coryell Roofing works with insurance companies on a daily basis. We want you to be prepared before you call your insurance. As a preferred contractor in Oklahoma and Texas for most major insurance companies, we prepare storm damage repair estimates for the insurance company using the same software program that most insurance carriers use.
This gives us the ability to not only work with your adjuster in determining related damage, but helping you review the estimate.  Insurance adjusters are busy and often miss critical elements that need to be addressed.  We will make sure your insurance claim is accurate.
4. Research roofing options
No matter what's the extent of the roof damage, our roofing contractors can guide you to the right roofing solution – be it a complete roof replacement, a metal roof retrofit or alternative repair method. All Coryell roofs are extremely durable and energy-efficient and come with the best warranties in the industry.
5. Beware of traps
We want to help you avoid a very common form of insurance fraud.  It is a felony to intentionally deceive an insurance company by profiting from a claim.  Many contractors will offer to cover your deductible. That is not legal.
Your insurance premium is based on a deductible that you agreed to.
If a contractor offers to pay your deductible by discounting the cost of the work to be performed, then you are required by law to advise your insurance carrier that you had the work performed for a lesser amount, reducing your claim benefit.
Most insurance carriers will require copies of invoices from the contractor upon completion of the repairs.  If you provide invoices that do not add up, your claim settlement will be reduced to the amount of the invoices.
Some contractors will offer to provide two invoices: one for the full amount of the claim for you to provide to the insurance company, and one invoice with a discount.  Please do not fall into this trap.  This is considered fraud. Insurance carriers are cracking down on the illegal transactions that are taking place.
6. Choose a qualified commercial or residential roofing contractor
Make sure your contractor has good references and is highly qualified to do the job. View Coryell Roofing's qualifications at one glance.

Making the Necessary Repairs – We Can Handle It All.
When an insurance carrier agrees to pay for storm-related roof replacement or repairs, there will be an explanation of benefits provided to you in the form of an estimate.  Although the estimates are typically accurate, there can be times when repairs cost more than what has been allowed by the insurance.
As a specialized commercial roofing contractor, once authorized by you, we work directly with your insurance company to ensure that the funds are available when repair costs exceed the estimate.
We know the process and documentation that is required to make this happen.
We can work with your insurance company and mortgage company to make sure that you are never in a difficult position trying to pay contractors when insurance funds have not arrived yet.
We have worked with a network of professionals from many trades, giving you the best in quality for every area of your claim.
7. Paying your contractor – When will I receive all of the money?

The complexity of the project can determine the method of payment.  Your insurance carrier will send you an explanation of benefits that is very confusing to most policy holders.
It is likely that you will receive a "first check" that is significantly lower than the amount required to perform the repairs.  You will hear terms like ACV, RCV, supplement, and depreciation.
It is also likely, if you have a mortgage on your property, that your insurance check will be released in stages and only when the mortgage company can verify that you are working with a contractor.
We have worked with many financial institutions and can provide them with the necessary documentation to ensure the funds flow smoothly.  We are also experienced in providing the insurance carrier with proper documentation for full release of funds.
When it comes to working with your insurance company, you can rest assured that we will be by your side through the entire process. Let Coryell Roofing and Construction, Inc. handle all of your insurance claim assistance needs.