Coryell Roofing had a busy year in 2019, installing more Duro-Last roofing than ever before. So we were thrilled to be honored by Duro-Last at the National Sales seminar in January when we received their 2019 Platinum Contractor Award as well as the coveted Golden Eagle Award.
As Platinum Contractor Award winners, Coryell Roofing must achieve specific benchmarks of volume, the number of warrantied roofs, and score in the "outstanding" category on all installation inspections – placing us in the top 3% of Duro-Last contractors nationwide! The Golden Eagle Award recognizes outstanding achievements in quality, customer satisfaction, and Duro-Last sales surpassing $2 million in 2019. In the official press release, Duro-Last Chairman Jack Burt says "Coryell Roofing has consistently gone above and beyond for their customers with high-quality work and integrity. We are proud to work with such a professional team and are excited to see what they accomplish in the next year."
The high standards expected by Duro-Last as "The Worlds Best Roof­®" are exactly why it's a favorite roofing system at Coryell Roofing: when you put quality and teamwork first as a contractor, it's great to work with a company like Duro-Last that has the same no-compromise commitment to quality. Thank you to Duro-Last for the honors, and thank you to our loyal customers who are looking for the best commercial roof possible, and found it with Coryell Roofing!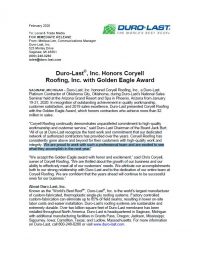 Read the Duro-Last Press Release
Read the Duro-Last press release honoring Coryell Roofing's outstanding performance in workmanship, customer service and sales and 2019.