Spring storms are upon us. The measures we are all taking against COVID-19 can make even simple business tasks difficult or impossible -- but taking care of your roof isn't one of them.
Coryell Roofing is as fortunate as we are proud that roofing, construction, and other infrastructure supporting industries are deemed "essential" in this time of personal isolation and the unified effort of American businesses, schools, and churches to slow the spread of COVID-19. With many organizations' facilities running on skeleton crews it can be hard to take care of the routine things that can become problems later on.  Coryell wants you to know that there's no need to put off inspecting your roof for potential storm damage or leaks while we all practice distancing. In fact, it could be the ideal time:
There's no cost for a thorough inspection by our team of certified commercial roof inspectors.
Minimal occupancy due to COVID-19 measures is an opportunity to perform any needed work with no disruption to your normal operations.
No physical involvement by you is required (unless required for roof access).
Any required paperwork can be digitally signed.
You'll receive a detailed inspection report, including photos, and recommendations.
A certified roof inspection by Coryell establishes the condition of your roof today to prepare for potential claims tomorrow.
Find out more about COVID-19 resources, why you should establish the current condition of your roof now, or sign up for a No-Cost Certified Roof Inspection below...
The Last 2 Weeks Have Produced a Mountain of Hail Reports Across the SW Plains.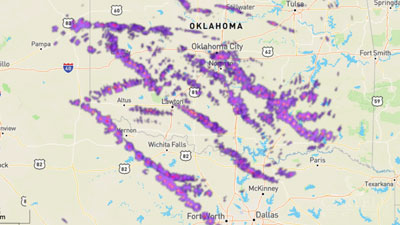 Hail paths based on NOAA radar data.
More hail coming down over the last 2 weeks from OKC to DFW has made this one of the most damaging hail seasons in years. If your commercial building, school, or church is unattended, you may not know if you've received damage. Coryell will provide a no-cost, certified, commercial roof inspection for you with no human contact needed, so you can rest easy. To explore hail maps and data, visit NOAA.gov. To have us explore your roof, fill out the form below, or give us a call!
Oklahoma - (405) 392-4800
Arkansas - (866) 858-2081
With hail season on the doorstep, you owe yourself a complimentary roof inspection from Coryell, and there's a great reason we say that: Today's laws and regulations allow most insurance providers to deny coverage for damage to your property that occurs outside of 1 year from the known date of loss. By getting a certified roof inspection from Coryell you can not only find out how your roof is doing today but safeguard the future by establishing a starting point to any potential claim, also helping us prove any new damage to your property when that inevitable 'Tornado Alley' storm DOES hit. We are HAAG certified commercial roof inspectors and would love the opportunity to give you a written report on your current roofing system, protecting you in a way that's often overlooked… contact us today!
Just send us your info below, and we'll have one of our talented team members contact you to discuss your needs in detail. Or give us a call at (405) 392-4800, and we'll take care of the rest.