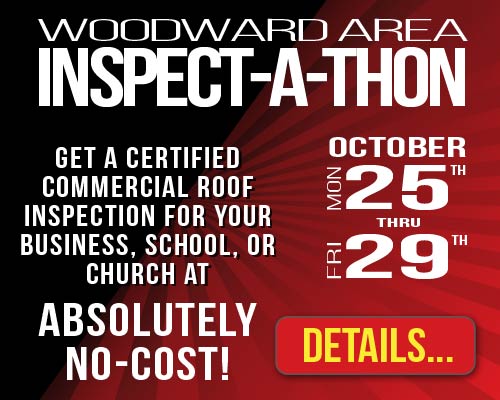 The Coryell Roofing Inspection team will be in Woodward, OK all week - from October 25th through the 29th - spending some "quality time" on the roofs of businesses, schools, and churches throughout the area. 
We like to get up-close and personal with your roof, and then give you the low-down in the form of a comprehensive Inspection Report. You'll know where you stand in terms of your roof's general wellness, areas of concern, and any issues that should be addressed immediately. We'll make recommendations for repairs or roof replacement, and leave you with a written report that serves as a baseline of your roof's current condition – a valuable reference if serious damage occurs in the future.
"Yes, I'd like to get a no-cost inspection at the Woodward Area INSPECT-A-THON!"
October 25th - 29th, 2021
Give us a ring at 866-858-2081 or fill out the form below – we'll arrange the best time for you, and get our inspection team on the way…