At Coryell Roofing we spend a good deal of time in January confirming our big plans for the coming year. In doing so, a look back at 2020 made us appreciate what a great year it really was (outside of some obvious challenges we all shared!). We began 2020 full of excitement, energy, and new ideas, and despite (and in response to) the challenges we became a stronger company in many ways. So, as we start 2021, we want to take one last look at a most eventful year, as we build on our 2020 "wins" in 2021.
We started the year with the entire Coryell Roofing Team walking the stage at the Annual Duro-Last Sales Award Banquet in Arizona as one of the Top 5 contractors in the nation. It's a fantastic reward for having a record 2019 and continues our streak of consecutive Platinum Awards for performance and quality. Congratulations Team!
Our growth in 2019 caused our existing resources to start bursting at the seams, so we also moved our HQ into a new facility in Oklahoma City in February of 2020. Our new place offers room to grow and freshly remodeled offices for doing our day-to-day meetings, training, and roofing magic. Our service area grew in 2020, too! We were very excited to put the finishing touches on our Texas Office in Arlington in early 2020 with Wendell, Lisa, and Dave taking care of business with our ever-expanding client list in Texas.
We also unveiled our new exhibition booth at the Texas Association of School Administrators Midwinter Conference. Coryell has a better way to help schools with their roofs, and it was exciting to get the message out with such a powerful presence. We figured we'd have a great year of exhibitions showing it off, but the headlines of March 2020 put everyone's face-to-face plans on hold.
When the spread of the virus began ramping up in the United States we helped flatten the curve any way we could. When governors pronounced construction as "essential" we quickly put protective initiatives in place for our staff and clients' safety, adapted to a "Zoom" approach to communication, and we've been ready to assist ever since.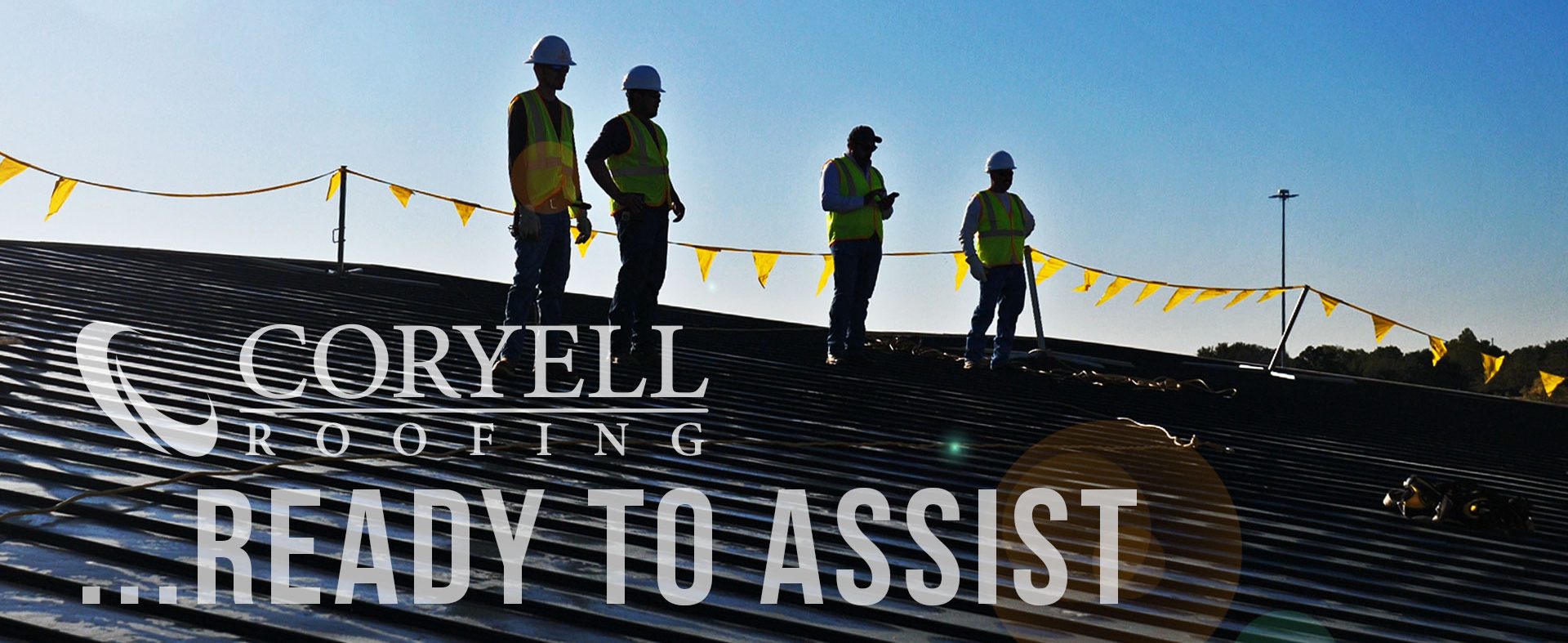 The pandemic had us finding new and creative ways to connect with and service our clients. One of the most exciting was the creation of the Coryell Roofing Road Show RV. We designed and applied what we are told is the largest custom wrap in the state, making for a bold and iconic visual presence. "The Bus" serves as our mobile COVID-aware meeting space, job-site command center, and tailgating HQ when we grill-up free "socially distant" gameday feasts for students and faculty before the game. Keep your eyes peeled as you're traveling the Oklahoma and Texas roadways for the Coryell Road Show and give us a honk!
You might see our own Cody Womack out on the road as well. Cody is an up-and-coming bass fishing legend-in-the-making, and he's sporting a new and eye-popping Coryell Roofing Bass Cat fishing boat this year. Look for him as he travels to events throughout the region or on the lake if you're a fan of angling.
Coryell is proud to be involved with and sponsor scholarships through multiple organizations that help educators provide the best for their students. We look forward to finding new ways to invest in our kids' futures in 2021. In 2019, Coryell was the roofing contractor of choice for more school campuses throughout Hail Alley than ever before. So, for 2020 we made and kept our plans to make new hires and expand in ways that would allow us to bring our next-level roofing solutions to even more administrators in 2021, helping them to achieve the "roofing peace of mind" that so many Superintendents have informed us only we can provide.
A warm welcome to all our new team members! You can find out more about them below…
In 2020, Coryell Roofing & Construction adapted to unprecedented historical events. We expanded our team, strengthened community ties, supported each other, and developed long-lasting relationships with clients, partners, and peers. Together, we begin 2021 energized, eager, and hopeful that we can assist you as we inspect, design, install, and stand behind the best roofing system you will ever have!