Coryell Roofing & Construction Celebrate Attending Friends of Texas Public Schools Gala on November 18 in Waco, TX
Texas's Coryell Roofing & Construction is proud to be the 2020 Title Sponsor of the Friends of Texas Public Schools Gala. The gala exceeded expectations by all accounts and was a massive success.
November 19, 2020
2020 has undoubtedly produced unexpected challenges for many Texas Public Schools. However, it is no surprise that the faculty and children attending Texas schools have handled this unconventional school year with typical Texas grit. Continuing that momentum, the Friends of Texas Public Schools (Friends) recently held a gala in honor of their accomplishments this year. Coryell Roofing & Construction is the inaugural Platinum Sponsor of Friends' Gala and participated in the festivities. The event was held in Waco, Texas, on November 18, at the Baylor Club, and with great anticipation, the gala only exceeded expectations.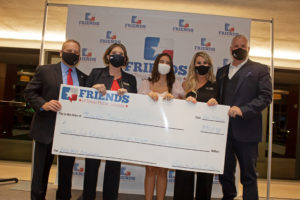 "This has been an exceptional event, and we are so honored to be here," commented Chris Coryell, CEO of Coryell Roofing & Construction. "We hope to continue to help this very worthy cause in the years to come."
Friends' mission is to help initiate and facilitate respectful conversations about Texas public schools through honest communication, productive dialogue, and constant encouragement. This sound approach has led to some great success stories — evidenced by the enthusiastic retellings overheard before, during, and after the event.
A vital aspect of Friends' 2020 initiative was to build a positive, supportive, and encouraging attitude within Texas public schools in regards to professional relationships, vendors and contractors.
Not surprisingly, the attendees and organization gave the gala five-stars and two thumbs up. Friends and Coryell Roofing were thrilled to be presenting to such an enthusiastic and involved group, so eager to make our schools the best they can be.
Jennifer Storm, Executive Director of Friends, remarked, "Friends is proud to have Coryell Roofing & Construction as our first-ever Friend of the Year Gala Title sponsor. We appreciate Coryell's support and are grateful for their partnership."
For more information and to find out the latest news from Coryell Roofing & Construction, be sure to visit https://coryellroofing.com; check out the official Friends website https://www.fotps.org.