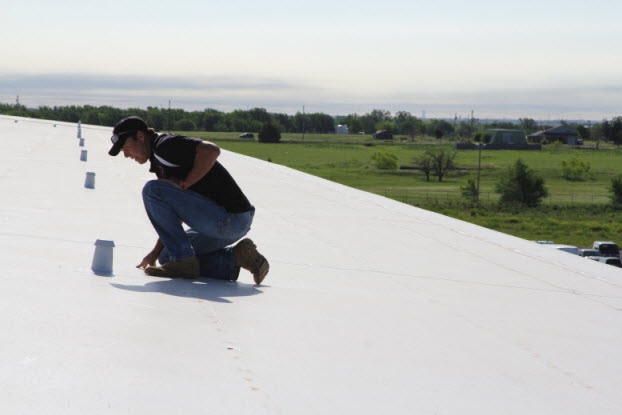 There are more than 2,000 roofing contractors in the state of Oklahoma. That's one for every 20 businesses in the state who have a physical location.
How do you choose the right roofing contractor for your commercial roofing job? Where do you start?
Define the Job
First things first: before you entertain searching for a roofer, ensure that you have your project defined. Are you looking for a new roof, maintenance, new construction, damage repair? Maybe you aren't 100% sure, but at least investigate as much as you can so you're prepared with solid questions for any roofing contractor you meet with.
Seek Referrals from other Business Owners
You probably do business with many other businesses in your area that have commercial buildings. Ask them for referrals and probe as to whether they have had good or bad experiences with specific roofing contractors. Ask about the "four P's" — proficiency, price, punctuality, and professionalism. Did the commercial contractor they worked with now what they were doing? Was their price reasonable and fair? Did they show up when they said they would? Was their work and attitude professional? Also, don't forget to ask if the roofer offers a warranty on materials or work.
Consult trade organizations and vendors
There are several resources for finding information on commercial roofers in Oklahoma. Try the Chamber of Commerce, Better Business Bureau, or check with local civic organizations with business connections. You should make sure that you work with a commercial roofer who belongs to the Oklahoma Roofing Contractors Association (ORCA) and CIB (the Oklahoma Construction Industries Board).  Don't even consider hiring a roofer unless they are insured, otherwise you are placing yourself and your business in danger should there be any injuries or damage to your property.
Many popular commercial roofing manufacturers have certification programs. Check to see which roofers are certified. Duro-Last, ER Systems, Owens Corning, DaVinci, and Certainteed all offer certifications. In addition, if you have a damage claim you will want to locate a commercial roofing company who has been certified to perform inspections. A commercial roofer who's achieved both HAAG and GAF certifications is expertly qualified to be on your roof to look for problems and do the job properly.
Ask your Claims Adjustor
Claims adjustors are on roofs and working with contractors on a weekly basis, especially during storm season. Ask your claims adjustor to recommend a commercial roofing contractor. Chances are he or she knows who the best in your area is.